---
Bed Bugs Treatment Packages
---
---
Low-Toxic Economical Method with Minimal Usage of Approved Chemicals
Non-Toxic Super Heated Dry Steam Technology

---

Safe for Families with Small Children
---
PRICE
$300
Onwards
---
---
---
Bug Bug Life Cycle
4 Weeks - 5 Months Depending on Conditions
Approximately 200-500 eggs are laid by each female bed bug in its lifetime. The instar can molt after any bloodmeal. Each instar will molt 5-6 times before reaching adult stage. Adult bed bugs appear flat until they ingest a bloodmeal. Adult bed bugs have the ability to survive up to 10 months without a bloodmeal.
---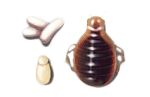 Package 1 : Basic
---
Our basic package starts at $300-$500 per room, adopting a low-toxic approach which involves minimal chemical usage and targets the bed bugs effectively without leaving any harmful residue.
Package 2 : Premium
---
For families with babies and small children, we highly recommend the non-toxic approach, priced at $500-$700 per room. This method uses the superheated 180 degrees dry steam which kills bed bugs without using any chemicals.
The approach takes much longer to execute, and the dry steam machine is proprietary and it cannot be bought externally.